Hey, so I decided to catch up with the reigning Scooter Dad Clint Steel and find out how it all started. You know, like the world needs to know. After a few tears and hugs, here's what he had to say.
How and why
ScooterDad all started a couple of years ago, simply by taking my son, Owen, and my step son, Aaron, to our local outdoor skate park at Brigg. I would take them and watch them on their scooters, ride up and down and attempt tricks. When Aaron was learning a certain trick and just wasn't getting it, I was watching how the other children were doing it and then trying to explain to Aaron what he needed to do. I would be stood there with Aaron's scooter demonstrating what to do without actually having done it. So in the end it was a case of you need to do it like this and borrowing his scooter to show him what to do. This soon became a regular occurrence at the skate park. The kids were getting bored with me borrowing their scooters and in the end told me to buy my own. Not long after I had the scooter, I got asked if I could 'tailwhip'. I secretly began trying this in the back garden, (much to the amusement of my partner, Niki) and yes my ankles took a beating, but I kept at it. I honestly thought it was impossible, then one day it happened. I'd landed my first tailwhip. J
First and current scooter
I looked on eBay and I bought a JD bug for about £30. I've got a custom scooter now.
People that said I couldn't do it
As you can imagine, at the age of 32 at the time, I had the obvious comments from people. 'Don't you think you're a bit too old to be riding a scooter?' My partner also said there was a few comments made by neighbours about my age and what I was doing, as I was always outside the house on my scooter with my sons and there friends. These comments alone made me want to get on that scooter and prove that age should make no difference. If I like it, and my kids are happy that I ride with them, then who cares what people say.
Who inspired me
I guess you could say my son and my step son are my inspiration. After all if it wasn't for them I probably wouldn't of stepped foot on a scooter. I try and learn new tricks as they think it's pretty cool and I encourage them to try new tricks and help them where I can. It also turns in to a bit of a competition of who can do this first.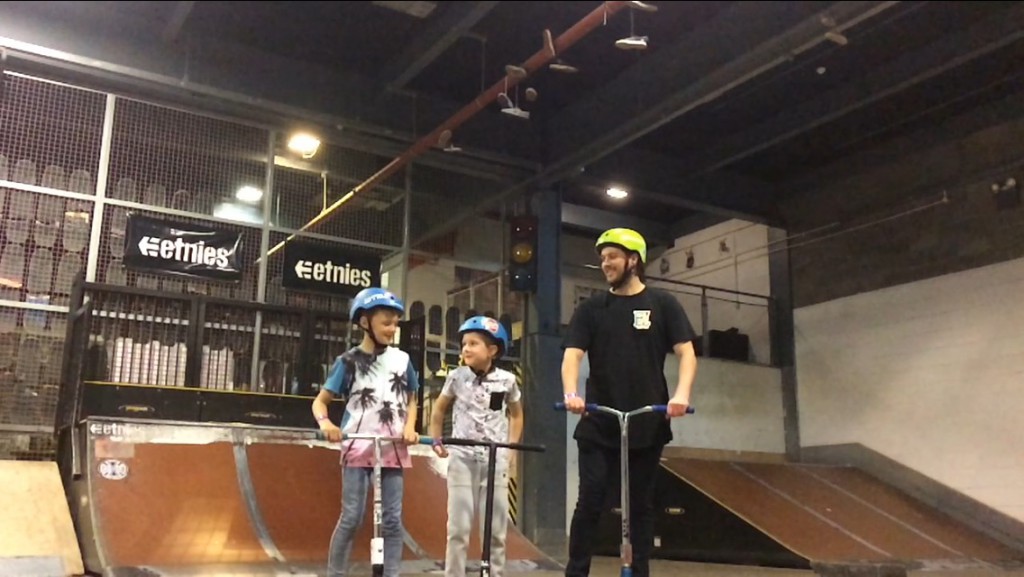 Where you are now
In the year or so I've been riding, I've managed to learn a few tricks. I can tailwhip, double whip, flat double whip, fingerwhip, bar, 360 and downwhip. I'm currently trying to learn a couple of new tricks, barwhip, whip bar, double fingerwhip, but I've yet to land them.
I started a Facebook page, to try and find other likeminded adults that were riding a scooter, and just to make sure I wasn't going through a mid-life crisis. I started posting pictures and videos of what tricks I had learnt. People started getting in touch and liking and sharing my page. At the minute I have 3489 likes! My page has even got as far as America, Australia, Sweden and Brazil. Reece Prince commented on one of my photos saying "stoked that your riding my signature wheels" and then him and Charlotte Worthington shared my page and the likes just started going up and up. BEARINGz clothing got in touch through my page which ended up with a sponsorship and me being part of their team.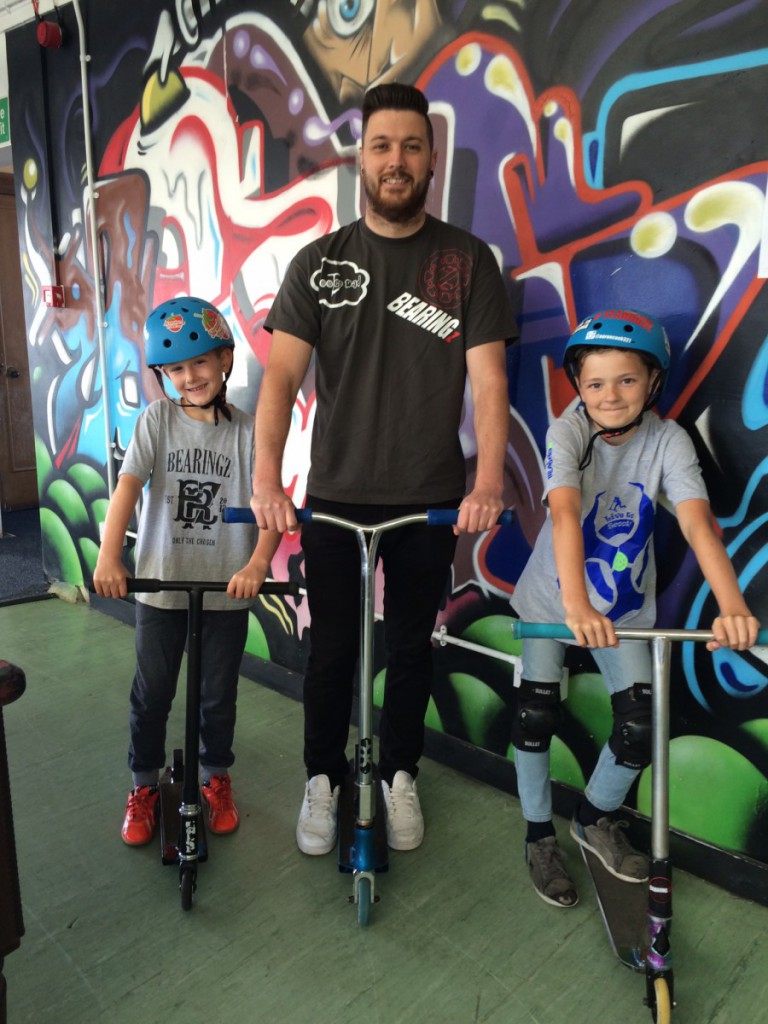 Role in the community
Everyone knows me down at the local skatepark, and I must hear my name called at least a 100 times an hour (maybe a little bit of an exaggeration) for someone to show me what they can do. I'm happy to watch and try stuff. I've often heard a kid shout to their mum or dad when they arrive to pick them up 'watch what I can do' for the parent to say back that they haven't got time. I know the hard work that goes in to landing tricks for the first time, so I'm quick to praise where praise is due no matter how big or small the trick is. I also took a trip to Leeds on August 16th, on behalf of BEARINGz to make an appearance at the WORKS annually sponsored Scooter event. I was there to talk to the young kids who were aspiring to riding a scooter and taking part in the various events. The riders and the audience loved it all. I think seeing an older adult riding and working with the youths, showed there is more to just video games and TV in their futures.
In all, I love being on my scooter now, and I'll admit to going to the skate park on occasions without the kids just to practise.
Aim for the future and others like me
My aim for the future is to find/ride with other ScooterDad/mums/aunties/uncles whoever, from the older generation, even get my partner to learn some tricks (she can already bunny hop), and make them see that age should not stop them from jumping on a bmx, scooter, skateboard or even blades. If your kid asks you, then go for it, you never know, you might actually enjoy it. I've met a few like-minded people already through my Facebook page. I'm even meeting up with a guy from Lincoln tomorrow over at hull.
Agenda
I haven't got an agenda. I just like doing it and spending time with my partner and my kids.
Me and my partner have talked about how nice it would be to own my skate park but there is already one in Scunthorpe. So until he wants out, it's all a dream…