Let me start by saying – WOW!!!
My feet ache, my legs are sore, my shoulders are swollen and I'm still tired – I DIDN'T EVEN SCOOT!!!!
For a first time event, I have to say – IT ROCKED so lets break it down for you.
From waking up at 6am, getting my boys ready, bribing them with another showing of Frozen (luv that film), doing some chores to keep the Wife sweet and then sneaking out the front door – WOOHOO!! escaped. To now driving to Brockley train station to get my train at 9.15 am – yes, young Jake and his mates get into London Bridge for 9.40 am (I was told), his old man will be well happy the boys will be in safe hands, when I meet them off the platform. WT.., can you believe it, the train station is closed and I have to drive all the way to the next station – 10-15 mins away. Damn, blew it, I'm gonna miss meeting those kids on time and they are gonna be freaking out, not being from London n' all. To cut a whole load of waffle and suspense short, Baby Jake and his mates never arrived at London Bridge till 10.20 am, and there I was having been waiting now for 20 mins with my bag in my hands and a big sign on my back saying 'Dodgy black fella'.
ST. PAUL'S
Ok so the boys turn up and off to St Pauls we go, hopping off one Tube to get another, running up escalators, putting ticket in one barrier outlet and trying to go through another – yadda yadda yadda.
Finally got there and it was an immediate Buzz, a bit like the buzz you get when you watch England play…. err, maybe not the best example. Anyway, BIG BUZZ as I met a mass of Riders round the side of the cathedral. Archie Cole attempting his 100 tricks as usual and landing a lot of them, Leigh Hodges (owner at Dub-Sk8s) helping to encourage the riders, to do their THANG and Kallum Kerrigan, the event organizer, standing by and looking overwhelmed by the growing Buzz, the London street Jam was producing. Many Riders were looking hesitant at trying stuff, and it kinda reminded me of a school party where no one wanted to take the first dance. Not the little ones though – our BEARINGz Junior Rider Harry Lawes and Dub-Sk8 Flow Riders Louie Hodges and Adam Swan were going for it. They were Tail whipping and Bunny hopping like crazy. Enter the City Police to cull the whole atmosphere and try moving us all on. "St Pauls don't want you here", one of the officers said. Another officer came by riding her horse and looking authoritative, great to see she couldn't hide her amazement at what the Riders had been doing.
We moved on and found ourselves all round the back of St Paul's Cathedral, by some steps, now famously known by the Riders as 'THE 16 STEPS'. Guys were whizzing, off the top steps, attempting tricks and making a good show of it. Todd A Grady was doing his thing with the Mic, Kallum was chucking out prizes and it was cool to see guys wrestling to get a hold of the BEARINGz stuff. We had a good 15 mins before the Cops came by and ushered us off to the southbank.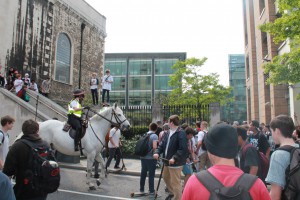 SOUTHBANK
Straight into the Undercroft we came and BOOM!!, Street Riders took it by storm. Riders were all now on a buzz and everyone wanted to perform. From tricking over mini steps, to coming off Railings – I guess you could say the Jam had now ARRIVED!!! Spectators everywhere and taking videos and pics, totally amazing. I think the great thing was the fact that too many people 'JUST DONT KNOW THAT SCOOTERING EXIST' – they do know now and many more will too. Many more prizes were being dished out and many more Riders impressing in front of an audience. We all hung round the Undercroft until after lunch before heading off to the next destination – London Bridge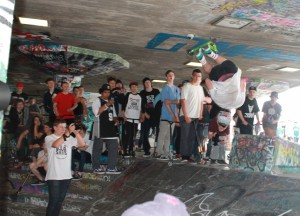 S
LONDON BRIDGE
By far the longest walk for me, as I was hungry, tired and carrying Jake Lorimer's new complete Maui & Son's boxed Scooter. Will I make it? questionable, until I got to Borough market and was revitalized the great food aroma circling the area. From Burgers to Curries, the market had it all but I was grateful for the aromas as it gave me hope. London Bridge and there was the stair/rail trick. Many looked at it and said "nah man, not enough run up", except for 2 Riders – Crucial Scooters Ollie Murphy and Rider/Rapper Moses Odiri Obibi. Ollie Murphy was caning that rail with one land after another, while Moses on the other hand, was getting caned by the rail, his last attempt giving everyone the shivers as he came crashing off the rail and slamming his arse bone heavily on the last step (check out the edit for the street Jam – shared here and cover your eyes – OUCH). Trick off the seat ledges was a good draw too, with BEARINGz riders Scotty Galloway, Connor Foyne and George Peters all performing well and bagging prizes. With all the excitement dying now and fewer obstacles to perform on, Kallum decided we should head back to the 16 STEPS to try and see if the best trick could be won.

BACK TO ST. PAUL'S
This was all about the coming of Elytes Corey Vanlew and his determination to NAIL best trick off the 16 steps and its long rail. This time the cops didn't show and after another of attempts trying to do the err err err – TRICK, he nailed it and was awarded best trick. We were all pleased to see him achieve the win, even though he did a few Hulk Hogan poses and made a big meal of it – what do I know, I don't even ride.
To cap it off, we were eventually kicked out of St. Paul's by an abusive policeman, who helped us solve the riddle to why peeps, especially Teenagers, act badly towards the Police. Finally ended up in Clapham Common skatepark and hung out for a short bit before heading off home, not before putting Jake lorimer and Tyler Thompson back on a Train home.
Great day, great turn out, great riding, and was really good to meet up with Riders, Sponsors, parents and my Team on a really good day out, that was the LONDON STREET JAM 2014